Crochet hairstyles are an easy protective hairstyle that's cute, fun, and doesn't require a lot of maintenance. You can rock them short, long, braid styles, kinky curly style, and everything in-between! Crochet hairstyles truly are versatile, and with the right cut and style, you can look like a million bucks. If you have a rounder face, you know that finding flattering hairstyles can sometimes be difficult, especially if you have fuller chubby cheeks.
Here are some trendy crochet hair styles for round faces.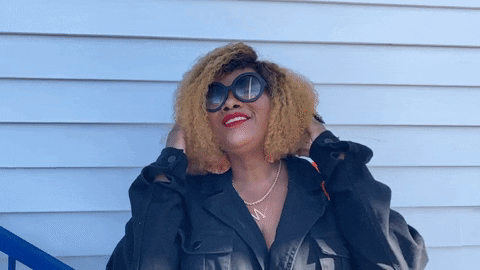 *Disclosure: This post may contain affiliate links, which means that I get a commission if you decide to make a purchase through my links, at no cost to you.
Do you have a round face?
Here are a few ways to determine if you have a round face:
1. Your facial features are soft with no sharp angles
2. Your chin is rounded
3. The length and width of your face are around the same size.
4. Your cheekbones are the widest part of your face
How to find crochet hairstyles that flatter your face
1. Avoid super sleek hairstyles with no shape, as this can add emphasis to your round face
2. It's better to go up and then out. Choose crochet hairstyles that have the volume on the top and not just on the sides, as this can make your face look even wider
3. Avoid bangs straight across and opt for bangs cut at an angle or swept to the side.
The best crochet hairstyles for round faces
1. Voluminous curls

Watch this Youtube tutorial by LivingFearless
If you love crochet hairstyles that look like natural hair, be sure to cut/layer your cuts, so they frame your face. These soft curls help add volume.

2. Shoulder length crochet Goddess Locs

Watch this Youtube tutorial by Kendra Kenshay
These gorgeous faux locs add shape and texture to the face. Because the faux locs sweep the shoulder, it helps add some extra oomph to the medium-length crochet faux locs.

3. Short braided asymmetrical bob

This asymmetrical braided bob helps to narrow a wider face since the hair is at an angle.

4. Goddess locs bob

Bob faux locs a flattering option for a round face because they narrow the face by balancing out the upper part of your face, which creates a thinner face.

5. Crocheted soft curls

Source: @vanitybydanit
This crochet hairstyle features choppy layers and soft curls. Because the hair is below the shoulders, it also helps elongate round-shaped faces.

6. Beach wave faux locs

Source: @idlelocs
The great thing about crochet faux locs is you can wear them straight, curly, wavy, and everything in between! These faux looks would be amazing on rounder faces since the waves add dimension to the look.

7. Crochet Asymmetric faux locs bob

Go one step further with your crochet faux locs by adding an asymmetric cut to it!

8. Long messy crochet faux locs

Watch the tutorial by Breonna Queen
The key to wearing long hair with round faces is to ensure it's not super sleek (which can emphasize a round face shape). These long faux locs help define and highlight the face because the faux locs have texture and shape.

9. Pineapple passion twist

Source: Breonna Queen
Who says a crocheted ponytail can't be a versatile face-slimming hairstyle?

10. High top curls

Source: @vanitybydanit
You can elongate the face with short hair. However, the key is to go up with the hair and not out. With short crochet, hairstyles, focus on adding volume to the top. Dani T. Because the volume is up top; it's a great way to shape the face.

11. Waist-length crochet faux locs

Source: imyourdestinny
Looking for a nice crochet hairstyle for a vacation that serves as a protective hairstyle too? This waist-length goddess locs will flatter a round face while creating a face-framing silhouette.

If you're crocheting your hair yourself, don't forget a crochet needle, and if you're crocheting faux locs or braids, don't be afraid to add in extra accessories like beads and ribbons for that added sparkle!
So here are a few crochet hairstyles for round faces that will frame your face. See a hairstyle you like? Let me know below!
How to do crochet hairstyles on yourself
I'm sharing how I do individual and crochet when I do my own faux locs! Watch the tutorial below!
What to read next:
– 23 ways to style blonde hair on dark skin
– 43 ways to style purple hair on dark skin
Pin to your Pinterest board so you can reference later:
11 Crochet hairstyles for round faces that are trendy & cute!